Stuff Portrait Friday Again!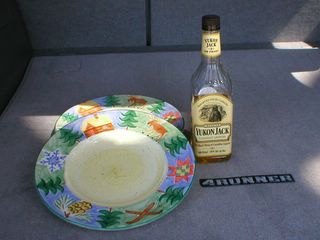 I put my
stuff
in my trunk -
The back of the dishes -

This week's Stuff Portrait Friday is hosted by
Renee
. The theme is to show:
a favorite alcoholic beverage, the trunk of your car and your dishes.
I decided to put all these items into one picture, but couldn't resist adding another photo showing just where I found my
screen name
!
Although I own three sets of dishes, I chose this set as it most relates to my theme here.
Oh, and just so you know~ I'm not planning on eating and drinking in the trunk of my car!